Not showing correctly? Switch to the SKS Newsletters page on your preferred desktop web client for a better viewing experience.
NEW THIS WEEK

---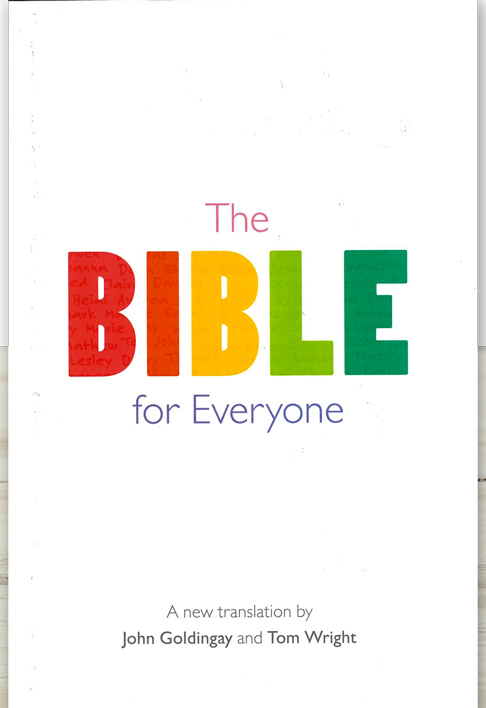 Author : John Goldingay / Tom Wright
Category : Bibles
The Bible for Everyone is the result of a passionate conviction that scripture should be something that everyone can read, understand and enjoy.
Two world-renowned biblical scholars and communicators have therefore undertaken a tremendous task: to draw together, revise and supplement the translations that appear in their popular For Everyone commentaries, making a rounded, readable and reliable version of the Bible that will prove helpful to people of all religious backgrounds at every stage of their lives.
Broken up into easy-to-read, bite-sized chunks, and including helpful introductions to each biblical book, informative maps and a substantial glossary of key words, here is a new rendering of ancient wisdom that can be read like a novel, studied in sections or used as an aid to daily devotion.
---
Author : Thom Rainer
Category : Church Ministry
Format : Hardcover
* Before Members Discount
Most church members don't see their churches clearly. In almost all of Thom Rainer's consultations, church members perceive their church to be friendly. But as he surveyed guests, he found that the guests typically saw church members as unfriendly. The perception chasm existed because the members were indeed friendly . . . to one another—The guests felt like they crashed a private party.
Bestselling author Thom Rainer (I Am a Church Member, Autopsy of a Deceased Church) has a game plan for churches to become more hospitable. In a format that is suitable for church members to read individually or study together, Rainer guides readers toward a practical framework for making a difference for those who visit their church.
Churches may use Becoming a Welcoming Church to assess and audit where they are on a spectrum between welcoming and wanting. Additionally, churches can use the companion book We Want You Here to send guests home with a compelling vision for what pastors want every guest to know when they visit.
---
Author : Stefan Gillow Reynolds
Category : Spiritual Formation
Format: Softcover
* Before Members Discount
Through the teachings of Jesus, and Christian mystics such as St Augustine and Meister Eckhart, Stefan Gillow Reynolds demonstrates that the practice of Mindfulness leading to silent meditation, recommended by many therapists, is not a modern fad but has always had a place within contemplative Christianity.
---
Author : Jeff Iorg
Category : Church Ministry
Format : Softcover
* Before Members Discount
Many ministries must undergo major change in order to fulfill their mission, and more importantly, to fulfill God's mission, in today's world. This book tells the story of the relocation of Gateway Seminary—as well as other stories of major change. In doing so, it lays out the principles and processes necessary to get the job done.
The first section of Leading Major Change in Your Ministry outlines foundational concepts to leading major change. The second section explains a six-fold model for leading major change in churches and ministry organizations. The book includes illustrations throughout, not from hypothetical situations, but from real-life ministry challenges in both local churches and large organizations.
While theories about leading major change are interesting, practical insight about how to do it—written by someone who has led multiple organizations through major change—is far more helpful. The stakes are high. Leadership decisions in ministries have eternal consequences. Almost every church or organization needs—or soon will need —to be led through major change. Leading Major Change in Your Ministry is your guide to successfully getting it done.
---
Author : Phileena Heuertz
Category : Spiritual Formation
Format: Hardcover
* Before Members Discount
Spiritual practices that used to sustain us fall short when life circumstances bring us to the limits of our self.
After many years leading an international humanitarian organization, Phileena Heuertz experienced the deconstruction of her identity, worldview, and faith. Centering prayer, a Christian expression of mindfulness, was a crucial remedy for her fragmented condition, offering a more peace-filled and purposeful life.
The hallmarks of contemplative spirituality—solitude, silence, and stillness—have never been more important for our society:
In solitude, we develop the capacity to be present.
In silence, we cultivate the ability to listen.
In stillness, we acquire the skill of self-control.
Contemplative prayer helps us discern the voice of God, uncover our true self, and live a life of meaning and purpose.
Filled with insights and wisdom from personal experiences, Phileena introduces us to themes and teachers of contemplative spirituality, as well as several prayer practices, and invites us to greater healing and wholeness by learning to practice faith through prayer.
This is an opportunity to go deeper with God—to experience the Divine and be transformed.
---
Author : Mattie Montgomery
Category : Christian Living
Format : Softcover
* Before Members Discount
"Scary God brings you face-to-face with our Warrior-King God."
—John Bevere, bestselling author of The Bait of Satan
God's character is like a mighty diamond—a glorious convergence of respect, awe, reverence, adoration, thanksgiving, and yes, fear.
Yet why is it so difficult to reconcile the wrath of God with the love of God?
As Mattie teaches, it is simply a continual awareness of Jesus, our mighty Warrior King.
We should not be afraid to come to God; rather we should be afraid to be against Him.
Fans of Jefferson Bethke, John Bevere, and Brian Head Welch, will love the straight-talk in Scary God.
---
Category : Youth Reading
Format: Softcover
* Before Members Discount
Tim Gough seeks to redress the balance. He takes us on an expositional journey through the Bible as he sees it relating to youth work, pulling out purposeful themes through key stories and passages. He offers guidelines which can be used by any leader as he casts this strong, healthy biblical vision to inspire us. He is passionate about growing youth ministry that can outlive the youth worker.
Here is youth leadership training for the long haul.
---
Author : Robert Wolgemuth
Category : Men
Format : Softcover
* Before Members Discount
Like a seasoned angler, our enemy opens his tackle box and selects the lure most likely to attract his intended prey. And sometimes it's the bait you and I are least likely to consider a big deal.
But each lie about god, ourselves, sin, work, family, money, and more, we bite on ambushes our hearts and makes us a little less free.
So it's time to embrace Jesus and humbly ask Him to fill us with His Spirit and fight back for us. It's time to uncover Satan's schemes and then wield the key weapon God has given us in this battle, the Truth.
You were made for freedom. Here's your ticket to get there.
---
Author : Casting Crowns
Category : MS - Group Album
Format : CD
* Before Members Discount
Of the title track and concept of the album, "Only Jesus," lead singer Mark Hall says: "There's much talk these days about legacy. How do we want to be remembered? The more I think about it the more I'm reminded that anything in me that's worth remembering are the things that Jesus has worked on, and is still working on in me. On my own I have nothing to offer the world, but Jesus does - so don't mind me. Jesus is the only name to remember."



Song List:

The Bridge
Nobody (ft. Matthew West)
Only Jesus
In the Hands of the Potter
Even When You're Running
One Awkward Moment
Awaken Me
One More Song For You

Start Right Here
The Change In Me
Loved Moved First
Home
---
OTHER HIGHLIGHTS
---
SKS BOOKS WAREHOUSE | TEL : (+65) 6227 9700 | FAX : (+65) 6221 4595
315 OUTRAM ROAD #09-03 TAN BOON LIAT BUILDING S169074
EMAIL :
enquiry@sksbooks.com
| WEBSITE :
www.sksbooks.com
FACEBOOK :
fb.com/SKSBooks
| INSTAGRAM :
@sksbooks
OPERATING HOURS : Monday - Saturday : 9AM - 7PM | Wednesday : 9AM - 8PM | Closed on Sundays
PUBLIC HOLIDAYS :
This newsletter is only sent to SKS Books Warehouse Members and/or those who have registered on our website. Should you wish to unsubscribe, please kindly reply to this e-mail and indicate "
UNSUBSCRIBE
" in the subject heading and the registered e-mail you wish to remove. Your feedback is valued as well to help us improve.
---