Not showing correctly? Switch to the SKS Newsletters page on your preferred desktop web client for a better viewing experience.
---
---
---
---
NEW THIS WEEK
May 2019 volume 3
---
Author : A W Tozer
Category : Author Section (Selected)
Format : Softcover
* Before Members Discount
Discover Where God is Leading You!

How can I know God's will for me, personally? It's a question that haunts us all at times--maybe when we're looking for the right job, thinking about moving to a new city, or deciding whether or not to get married. At every stage we have difficult decisions to make, and we long for God's direction and His warm reassurance that we're heading the right way.

A Cloud by Day, a Fire by Night captures A.W. Tozer's teaching on the will of God. Taken from sermons he preached just before he left his successful church in Chicago, the title comes from the story of God leading His people out of Egypt and into the promised land.

Tozer was no stranger to facing difficult decisions. His wisdom and biblical insight will help guide you in decisions of your own and reassure you of God's presence every step of the way.
---
Category : Missions
* Before Members Discount
Guizhou, which means 'Precious State', is home to more than 80 distinct tribes among the province's 35 million people. God has powerfully reached several of these groups, but others still wait to hear of the Saviour of the world.

Guizhou... includes many vivid brief biographies of the extraordinary people who have been part of this remarkable story, along with dozens of unique photographs, painstakingly collected by the author over years.

This is the second volume in the China Chronicles, which tells the modern history of the Church in China. Each history starts with the arrival of the first Evangelical missionaries in a province, and continues to the present day.

Partly because of its explosive growth in recent decades, there is no accurate, readable account of what has happened to the Chinese ChurchThis series is designed to inform the wider world of the astonishing work of the Spirit in China. The China Chronicles also aims to provide Chinese believers, and members of the immense Chinese diaspora, with some sense of their own roots.
---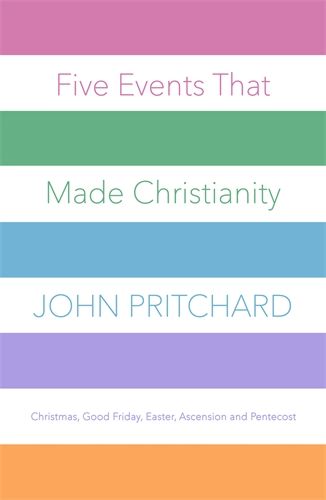 Author : John Pritchard
Category :
Christian Living
Format : Softcover
* Before Members Discount
'Jesus was a pest to the Romans and a threat to the religious leadership, so they threw him on to the rubbish dump. Little did they realize that it was like trying to put out a fire with petrol. The whole world exploded.'

With characteristic style, John Pritchard takes us on pilgrimage to the Holy Land, as he unpacks the five great events that made Christianity – Christmas, Good Friday, Easter, Ascension and Pentecost. We explore:

What happened?
What did it mean?
What does it mean for us?

Absorbing, immediate and full of stories, this volume offers deeply considered theology, brilliantly communicated to connect with life as we actually experience it.

'Vividly elucidates the familiar but often not-quite-understood beliefs at the centre of the Christian faith.'
Dominic Barrington, Dean of Chicago

Praise for John Pritchard:

Rowan Williams on God Lost and Found: 'Unusually honest . . . superbly well focused.'

Justin Welby on Living Faithfully: 'A very good book by an exceptional leader . . . takes one back to the face of Christ and the realities of Christian discipleship.'
---
Category: Biography
Format : Softcover
* Before Members Discount
'Many assume that living with dementia is one long term steady decline. Jennifer's insightful book debunks that myth.' – Jeremy Hughes, Chief Executive, Alzheimer's Society

Jennifer Bute was a highly qualified senior doctor in a large clinical practice, whose patients included those with dementia. Then she began to notice symptoms in herself. She was finally given a diagnosis of Young Onset Dementia in 2009.

After resigning as a GP, she resolved to explore what could be done to slow the progress of dementia. The aim of this practical book is to help people who are living with dementia and to give hope to those who are with them on the dementia journey.

Jennifer believes that her dementia is an opportunity as well as a challenge. Her important insights are that the person 'inside' remains and can be reached, even when masked by the condition, and that spirituality rises as cognition becomes limited.

'The observant physician shines through in Dr Bute's book, while her practical advice reveals the resourcefulness of an inventor. Alzheimer's disease has surely met one of its toughest ever adversaries!' – Peter Garrard, Professor of Neurology, University of London
---
Author : Rachel Newham
Category : Christian Living
Format : Softcover
* Before Members Discount
It begins slowly, so slowly that I hardly notice at first. My chest tightens and my heart begins to beat a fraction faster. I try to draw breath, but instead I choke on oxygen I can't inhale. As I realise that I can't breathe, the panic wraps itse...
I can't make myself draw a breath.

Rachael was aged just six when she had her first suicidal thought. Over the next decade, life would become increasingly fraught with depression and self-harm, and her outlook only bleaker. Before her eighteenth birthday, Rachael would twice try to take her own life.

And yet amidst this darkness, a flicker of faith lived on.

This is Rachael's story of her journey into, and out of, the darkness of depression. With unflinching realism and complete honesty, she shows us what it looks like to live with mental illness, and how God can find us and rescue us even in the most desperate of places.
---
Author : Elizabeth George
Category : Women
Format: Softcover
* Before Members Discount
What Will You Do with This Beautiful Day God Is Giving You?

Each new day presents opportunities to grow your faith, manage your work and your goals, and make good use of the time God gives you. But making the right choices moment by moment isn't easy. And the first decisions of your day can affect the next 16 hours—for better or for worse.

Elizabeth George, acclaimed Bible teacher, helps you navigate the options you might encounter today so you can…

get up and power up for a great day
establish your priorities
make the most of your time
choose good, better, and best options
pour yourself into the people in your life
Prepare to create a more beautiful and productive life and make each day more meaningful. God's best awaits you when you choose to live His way!
---
Author : Michael Dormandy/ Carl Laferton
Category : Theology
Format : Softcover
* Before Members Discount
This book does not try to sound clever, or win an argument. It does aim to to introduce people to Jesus and the answers he gives to the hard questions we ask.

Many Christian young adults and teenagers have hard questions about their faith. Many non-Christians do, too. Michael and Carl take nine of the hardest, such as "Doesn't Jesus ruin your fun?" "Why is there so much suffering?" and "What does Jesus really think about being gay?" These aren't questions with easy answers; but, as they show, they are questions that have good answers. Written for people of all backgrounds and beliefs, it's a book that is short but not simplistic, and clear but not condescending.

If you are a Christian struggling with these issues… if you want to have confidence to talk to your friends about these things… or if you are a non-Christian who wants answers to the hardest questions you can ask… grab this book.
---
---
---
---
SKS BOOKS WAREHOUSE | TEL : (+65) 6227 9700 | FAX : (+65) 6221 4595
315 OUTRAM ROAD #09-03 TAN BOON LIAT BUILDING S169074
EMAIL :
enquiry@sksbooks.com
| WEBSITE :
www.sksbooks.com
FACEBOOK :
fb.com/SKSBooks
| INSTAGRAM :
@sksbooks
OPERATING HOURS : Monday - Saturday : 9AM - 7PM | Wednesday : 9AM - 8PM | Closed on Sundays
PUBLIC HOLIDAYS : Opening hours may vary. Please check for updates on our website or social channels.
This newsletter is only sent to SKS Books Warehouse Members and/or those who have registered on our website. Should you wish to unsubscribe, please kindly reply to this e-mail and indicate "
UNSUBSCRIBE
" in the subject heading and the registered e-mail you wish to remove. Your feedback is valued as well to help us improve.
---